And other things. It's been an interesting, if mildly depressing, week. I have some wonderfully supportive friends (+husband), so I do have moments of sunshine, but you know how it is when those hormones come knocking. I do hope that's all it is. These little frustrations, however, are becoming more than a little tiresome.
After toying with my
nail stamper
and applying
mayo to my head
I started tooling around the evil playground known as youtube. My first venture was more hair help. I've been forced to look at my facebook profile pic with the lovely (but fake) red Paula Abdul haircut. I really really like it. So I looked for videos on recreating similar cuts on shorter hair (I absolutely
do not
trust salons) and tips on growing hair long. Somehow I managed to keep clicking on videos done by these little teenage emo girls and it made me sad for how young I used to be. Time to switch gears.
From the mayo-head video I was referred to another set of videos on
water marble nail art
. That looked interesting. And easy. Well.... Hrm. This may mean nothing to you, but my nail polish won't spread!! It's so frustrating. I'm trying to work on a way around it using just the little non-spread drops sprinkled out over an area instead of killing myself trying to get it to spread. Although, both nail dips so far have left me severely disappointed. Since the polish won't spread it goes on
so
thick. I'm currently painting my poor pinky nail for the 4th time today. So how do they look now? White base, grey-lavendar over that and metalic red hearts.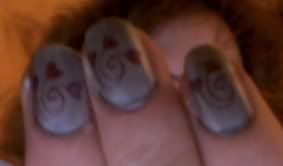 The only bright nail spot is that while watching the marbleing lady I saw she had a video on Konad. WTF is Konad? Apparently it's the name brand for the nail stamper art. Fancy. Then she made the unfortunate (for me) decision to explain that there are many different plates from many different manufacturers and you can order them individually and while she was demonstrating the difference between plates..... lo and behold! She brings out a plate with Hello Kitty. Oh dear.... Before I knew it I was on amazon browsing through nail plates featuring the dear Japanese cat to find the
best deal
. While doing that I also found someone selling
25 plates
for about $10. That went in the shopping cart as well. You know what else went in that shopping cart? A
new camera
... used, but new to me. Yes, I was a bad, bad girl on amazon. I am just
so
tired of trying to take pictures of close-up details to show you guys and them not coming out! I did it for you, really.
The other little thing that pissed me off? Oh my. I've been waiting to do a post about sites online where I make my money. So you can also join, if you choose, and make money online. I'm not going to recommend sites that don't pay and you can trust me, right? Anyway, one site... I've been having troubles with. Bad enough you only get half a cent for 30 seconds waiting. But, eventually even that will add up. And with a low $2 payout it doesn't take that long to get your money, right? Wrong! They had a little tiff with paypal and
still
haven't gotten it cleared up. Unlikely to since they just launched another site. So I signed up with AlertPay to get my damn money already. Not only does AlertPay say that bank transfer is disabled for the U.S. (WTF?!), but you need
$10
to request a check!! So I'm sticking with this stupid site until I get my $10 and then I'm done with it. Just waiting to get the $20 on this other site (it's adding up quite a bit quicker) so I can confirm that they do, in fact, pay out.
On top of
all
that; apparently my granny has cancer. I don't know where, or what kind or how severe so I don't know how worried I should be. The only thing I can think to do at this point is light a candle and paint my toenails. Since she's the one who taught me how to do that. *sigh*